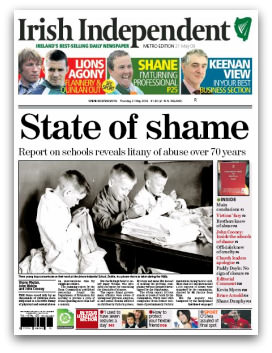 Shocking news from Ireland as the 18 Irish religious orders implicated in decades of abuse of thousands of children in their care have agreed to increase their contribution to the compensation fund for victims.
CNS notes:
A report released May 20 by the Commission to Inquire Into Child Abuse said a climate of fear created by pervasive, excessive and arbitrary punishment permeated most of Ireland's residential care institutions for children and all those run for boys from 1940 through the 1970s. These residential institutions, funded by the state but often run by Catholic religious orders, included schools, orphanages, hospitals, children's homes or any other institutions where children were in the care of nonfamily members.

Describing the meeting of the government and religious leaders as "very good," Minister for Education and Science Batt O'Keefe told RTE radio: "We are pleased that they have agreed with the three principles outlined by the government — that a further substantial contribution will be made, agreement that a trust (to compensate and support victims) will be put in place and that the evaluation (of the congregations' assets) will be open and transparent."

All 18 congregations were represented at the meeting, which was also attended by O'Keefe; justice minister Dermot Ahern; social welfare minister Mary Hanafin; and Barry Andrews, minister for children and youth affairs.
A h/t to the Deacon
Reuters also reported a few weeks back that:
DUBLIN – Victims of sexual abuse and neglect in Catholic-run schools and orphanages in Ireland swamped counseling services on Thursday after the publication of the harrowing findings of a nine-year investigation.

"We've had 30 times as many calls as usual and our phone lines are always quite busy," said Bernadette Fahy of the Aislinn Center, an organization set up by an abuse victim. "We have had to close the center because we haven't been able to cope with the amount of people coming in.

"It's extraordinary the number of people who are contacting services for the first time."